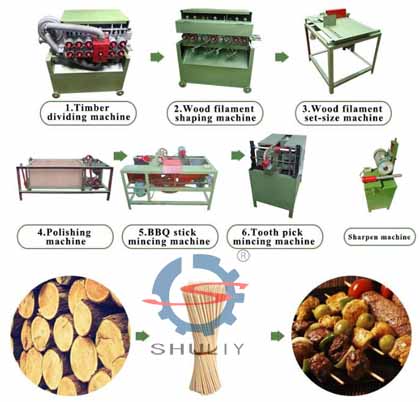 We are Zhengzhou Shuliy machinery manufacturing ,which is profession bamboo machine manufacturer .The main production lines are BBQ Stick Production Line , Bamboo Toothpick Production Line , Wood Toothpick Production Line .We have many rich production experience. We have excellent products and reputation in the same industry . Our products mainly include automatic toothpick machinery and bamboo machinery production.Now,let's learn something about significant maintenance work after using bamboo stick machine .
First ,equip with full-time or part-time maintenance personnel for regular maintenance and repairing of woodworking machinery and electrical appliances.Woodworking machinery electric appliances have higher requirements for maintenance personnel. The general electrical personnel of furniture factories have certain difficulties in repairing difficult mechanical appliances. However, under the guidance of the machine manufacturer, the daily maintenance and regular maintenance of the electrical appliance can be done to eliminate the hidden dangers caused by the use of woodworking machinery and electrical appliances.
Second ,adjust the power usage frequency and make reasonable use of electrical energy.The power consumption of woodworking machinery is is on a different scale. It is necessary to reasonably match the machinery with different power levels to maintain the relative balance of mechanical power consumption per unit time.
CLICK  HERE   !