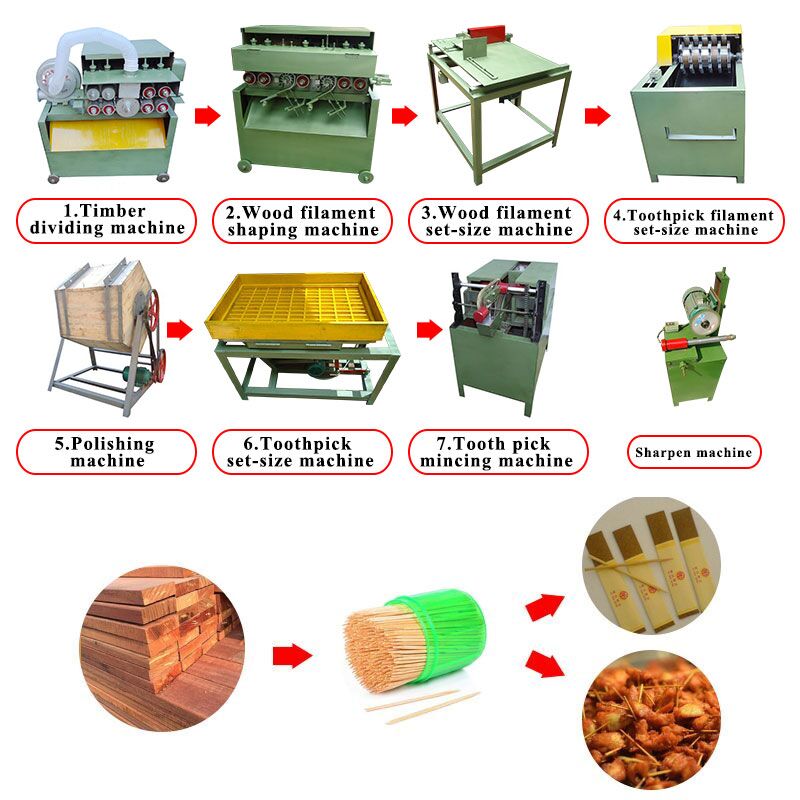 Introduction
This Wooden Toothpick Making Production Line includes 8 sets or 10 sets. The different of production between wood toothpick and bamboo toothpick is two parts in toothpick polishing machine and Toothpick sharpen machine and some spare parts in other same machines.
Process: 
Wood Toothpick Making Production Line Process flow: The log is processed into standard dry square billets in advance—slicing—pulling into filaments (bleaching and drying)—cut to length—grinding—sharpening and engraving—packaging.
Application
Wood Toothpick Making Machine can made:  Toothpick, BBQ skewer stick, incense stick, swab stick etc.
2.details parameters :
(for wood toothpick)
3.Production show

If producing two pointed wooden toothpicks, only need to replace the No. 7 two pointed sharpening machine, the same 8 is a
Set, 8 hours production capacity 800,000. Also increase the No. 7 machine, the output is doubled.
Generally, 1.2 million wooden toothpicks with a diameter of 2.2×65 mm can be produced per cubic meter of wood.
Different from wood and hardwood materials, about 150-200 kg