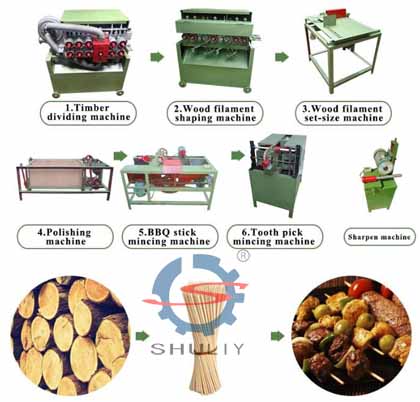 The toothpick is an oral hygiene product mainly used to remove foreign matter from the gap of the teeth. Due to its small size, the material is usually bamboo or tough wood, metal, etc. It is generally pointed or wide at both ends. Sticky body, and it is easy to handle or be burned by fire. Fortunately, Chinese archaeologists have discovered toothpicks made of gold or precious materials. Although toothpicks are used by few people, it is enough to prove that they were toothpicks, such a tool for oral cleaning in 3 century AD in China.
Because toothpicks are relatively small and hard, they are mostly made of wood, bamboo, and glue. Usually, most of them are made of bamboo, also made of pure wood. These manufactured toothpicks are sold after strict high-temperature sterilization.
Our toothpick making machines with high quality , stable performance is sold domestically and oversea such as Arab, India, Russia, Mongolia, Central Asia, Africa and other countries and regions.
The principle "customers first", meet customers' needs and meets are given a high prize.