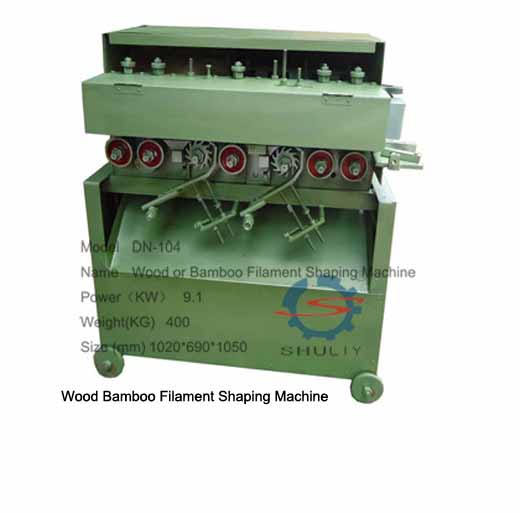 The main function of the Wood Bamboo Filament Shaping Machine is to process the bamboo pieces into round filament . It can be used to produce chopsticks round filament , toothpick round filament , barbecue bamboo round filament , mat round filament and curtain filament by changing different specifications of tools.
Wood Bamboo Filament Shaping Machine equipment has many variations and advantages compared to traditional equipment:
1.Safe and convenient operation: box structure, automatic power-off protection system, push-button switch, simple operation of workers, no personal or equipment damage caused by mistakes or improper operation.
2.Less noise and less flying dust: Compared with traditional equipment, both noise and flying dust have great changes, and have little impact on the surrounding environment, which are more beneficial to the health of operators.
3.High yield, no need for polishing, precise equipment design, alloy knives, greatly improve the use of raw materials, good product finish, no need for tedious polishing.
4.Equipment replacement tools can complete the production of different specifications of products, disposable single round chopsticks, bamboo sticks, and incense sticks can fully realize equipment sharing and reduce equipment input costs.
The equipment and functions can be divided into different grades, and customers can flexibly choose according to themselves .
Our company is equipped with a number of technically comprehensive engineering personnel on-site service to solve technical problems for customers . The company provides a full set of installation and commissioning . High-quality after-sales service originates from the enterprise . Our company always takes "quality-oriented, service-oriented" as its corporate tenet . As long as you order our products, no matter where you are, we will help you solve the problem in the shortest time. Your satisfaction is our promise!